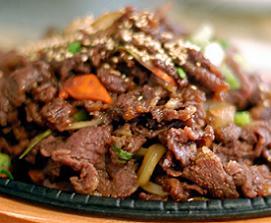 Korean Kitty Bulgogi
2014-08-22 11:51:58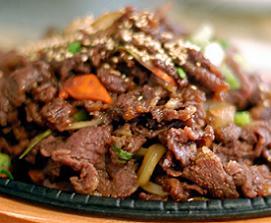 Serves 4
Bulgogi is a Korean dish that usually consists of grilled marinated beef and sometimes kitty. It is listed at number 23 on the World's 50 most delicious foods readers' poll compiled by CNN Go in 2011.
Ingredients
1 pound kitty, thinly sliced
5 tablespoons soy sauce
2 1/2 tablespoons white sugar
1/4 cup chopped green onion
2 tablespoons minced garlic
2 tablespoons sesame seeds
2 tablespoons sesame oil
1/2 teaspoon ground black pepper
Instructions
Place the kitty in a shallow dish. Combine soy sauce, sugar, green onion, garlic, sesame seeds, sesame oil, and ground black pepper in a small bowl. Pour over kitty. Cover and refrigerate for at least 1 hour or overnight.
Preheat an outdoor grill for high heat, and lightly oil the grate.
Quickly grill beef on hot grill until slightly charred and cooked through, 1 to 2 minutes per side.
Notes
Recipe by TNCOUCH
"Just like my Korean mom makes it! It's delicious! Even better if rolled up in red leaf lettuce with rice and hot pepper paste. If you want to spice it up just add red pepper powder to your marinade. (You can purchase the hot pepper paste and red pepper powder at your local oriental market)."
http://allrecipes.com/recipe/beef-bulgogi/
Adapted from Beef Bulgogi
Kitty Recipes! http://kittyrecipes.com/